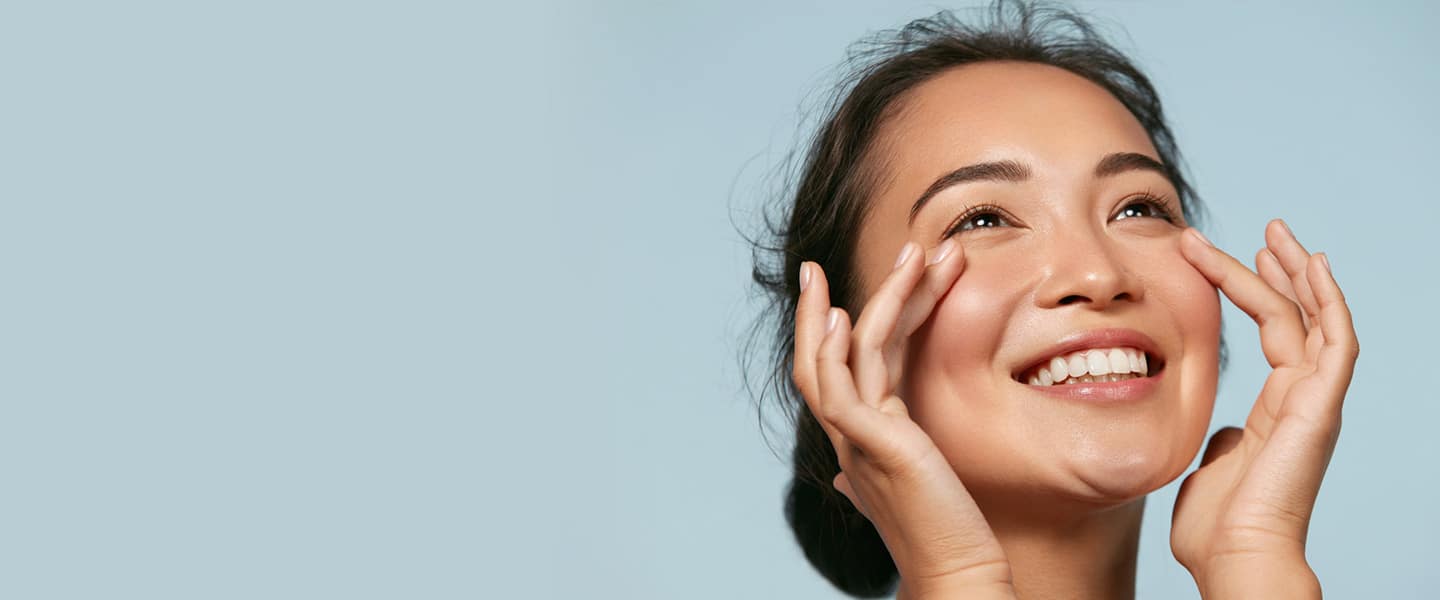 What is the Glow Series?
The Glow Series is a three-step protocol designed to improve the skin's appearance by firming, tightening, and smoothing the surface. The treatment uses PRX-T33, a unique formula which requires no needles, peeling, or pain. Through the course of your six-treatment Glow Series, your aesthetician will apply the stimulating formula to the skin followed by WiQo Moisturizing Face Cream and WiQo Facial Smoothing Fluid.
Who Can Benefit From the Glow Series?
The Glow Series is suitable for all skin types, including tan or deep skin tones. The products are designed to be effective yet gentle for all skin types, including dry or sensitive skin. The Glow Series is beneficial for a range of concerns, including signs of aging, irregular or uneven texture, wrinkles and fine lines, dullness, stretch marks, or mild to moderate skin laxity.
How Does the Glow Series Work?
The Glow Series is a three-step treatment that does not require needles, numbing or the typical peeling process following a traditional chemical peel. The treatment can be completed quickly with appointments typically lasting less than one hour.
Step 1 – PRX-T33
The first step in the Glow Series is to apply PRX-T33, a "non-peeling peel" solution that contains a combination of trichloroacetic acid, hydrogen peroxide, and kojic acid. After thoroughly cleansing and prepping your skin, PRX-T33 is applied using a specialized massage technique. This step removes damaged, dead, or toughened skin cells without penetrating, damaging, or peeling the epidermis.
Step 2 – WiQo Moisturizing Face Cream
Once the PRX-T33 has been completely absorbed by the skin, your technician will apply WiQO Moisturizing Face Cream for Dry Skin. This step restores and moisturizes using high-quality shea butter, vitamins A and E, and plant extracts to nourish the skin. Following this step, the skin's hydrolipidic film is restored for a healthy and hydrated appearance.
Step 3 – WiQo Facial Smoothing Fluid
The final step in the Glow Series is the application of WiQo Facial Smoothing Fluid, which contains low pH glycolic acid. This finalizes a smooth appearance and prolongs the effects of the Glow Series treatment.
Why Does MDSkin Offer the Glow Series?
MDSkin offers the Glow Series as a versatile, low-maintenance, and gentle treatment option for common concerns like skin laxity, wrinkles, and fine lines, or stretch marks. This treatment is comparable in its results to options such as traditional chemical peels or thread lifts, yet requires no needles, pain, or downtime. It is a good alternative to these treatments for patients who may not be good candidates due to their skin type or tone and is also a good option for patients who desire no downtime after a procedure.
What Can Be Expected After the Glow Series Procedure?
After your first Glow Series treatment, you can expect to see some palpable skin firming but will see the most benefit when completing the six-series treatment. The treatment requires no downtime and is not photo-sensitizing; this means that you do not have to worry about avoiding sun exposure following the treatment (a mineral-based SPF of 30 or higher is always recommended for your skin's overall health). The treatment is long-lasting thanks to the stimulation of new collagen production, so results should continue to gradually improve in the weeks following your six-treatment Glow Series.